3 Min Read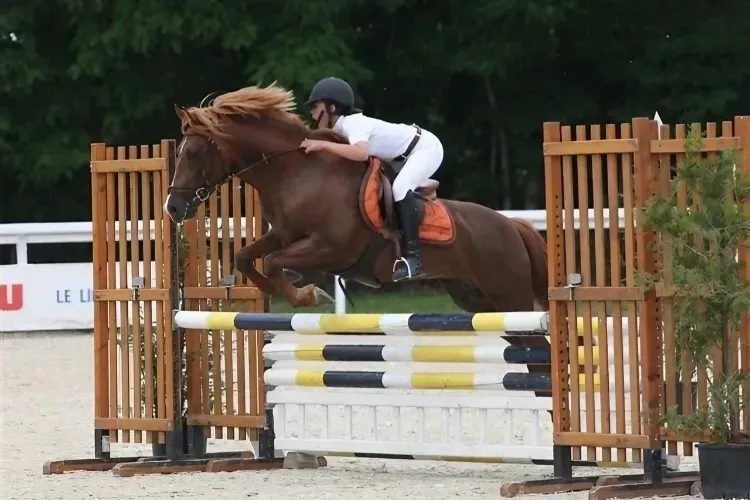 Semi-feral New Forest ponies have coexisted with humans for thousands of years. Their Hampshire habitat is an extremely picturesque and idyllic part of the English countryside.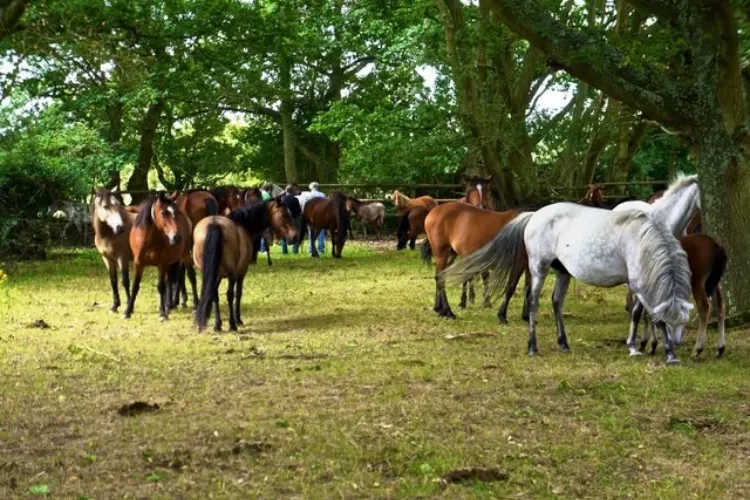 These New Forest ponies are seeking shade in the heat of the day.
But the New Forest is Centuries Old
The forest traces back to 1066 when William the Conqueror became King of England and made this region a royal hunting ground called The New Forest. Common people were still permitted to graze their cattle and ponies in the area and to this day these people are referred to as Commoners.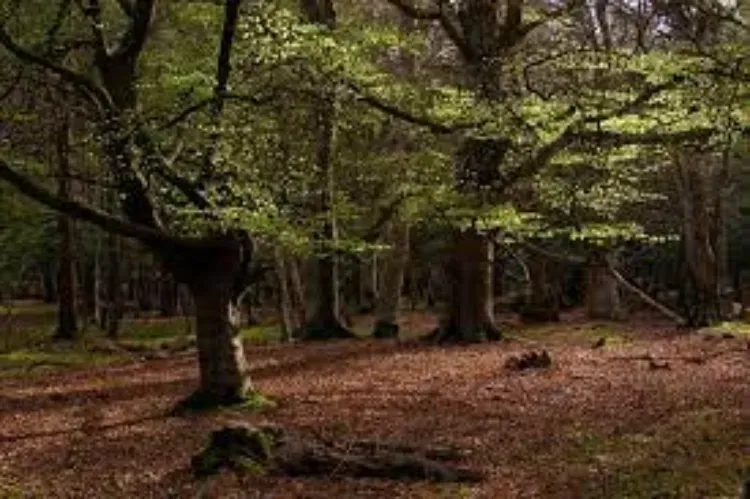 So the area became a royal hunting ground to be shared with the English peasants and cotters.
Where to find the Ponies
There are about 5,000 ponies roaming the New Forest National Park. However, much of the forest is actually open moorland, and bands of ponies are seen everywhere. However, in the Summer and Autumn, the Commoners round up their pony drifts to check on their condition and wean foals. So this is a good time to pay a visit to the area.
For economic reasons Commoner's breed fewer New Forest Ponies
This means the semi-feral New Forest ponies are on the native breeds at risk register. However, there are stud farms breeding these ponies in England and North America.
Recognising a New Forester
These ponies are frequently bay, chestnut, or brown and can grow to slightly over 14.2hh (148cm). There is no lower height limit for New Forest ponies, but some are as small as 12 hh. This breed is of riding type with active and straight movement. The larger specimens can carry smaller adults and the smaller ones are ideal for young children. When broken New Forest ponies are kind and make excellent family ponies.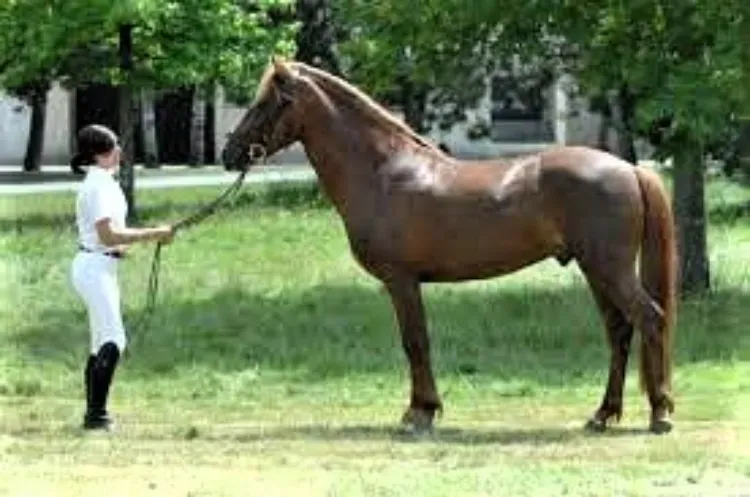 A New Forest pony stallion with a good solid frame.
New Forest ponies Hall of Fame
Forest Scouts rode these ponies in the South Africa, Boer War (1899 to 1902) and the ponies carried 13 stone under extreme conditions
American eventer Sinead Halpin successfully competed Forrest Nymph to CCI2* level.
Looking at why New Forest ponies are a good choice
In England, the Elite Scheme now ensures the breeding of high-quality New Forest ponies.
The Elite Scheme
In England, this identifies good pony bloodlines. Ponies obtain points for competing and this information is used to identify elite ponies and their breeding lines. There are eight annual Elite shows for New Forest ponies to accumulate points. In addition, ponies placed at RIHS, HOYS, and Olympia score points.
Performance is Important
Points are also scored through competing in:
The Boxing day Forest Point to Point race
BRC National finals for jumping, dressage,eventer trials, combined training and horse trials
NPS Dressage Championships
Sports Pony Society gradings.
In addition, ponies are performance graded for style.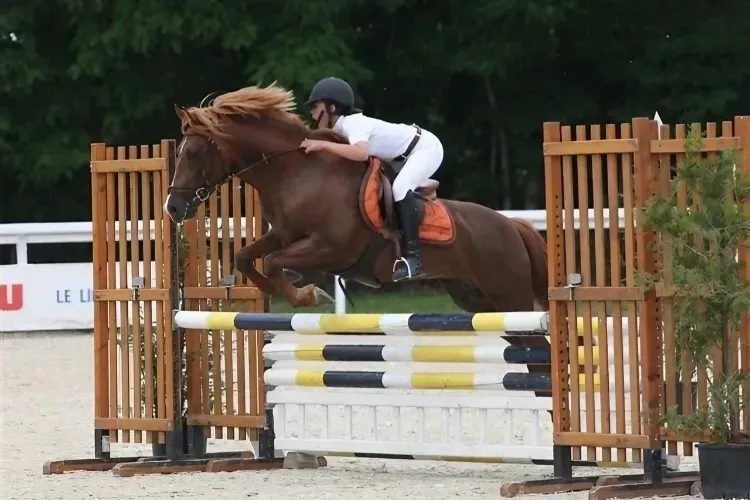 A New Forest Pony jumping with style and confidence.
Adding to the Elite Scheme
The Society has a grading and inspection scheme to identify jumping techniques and suitability for dressage:
For jumping, ponies are assessed on technique, obedience, athletic ability, and general impression
With dressage four grades are linked to the BD guide lines up to Medium level.
Stallions are performance-tested Stallions when they reach grade 1 in both dressage and jumping technique.
All New Forest Pony Stallions have to be of Superior Quality and Conformation
Ponies are used as stallions after passing a vetting at two/three years of age. This is for all forest run and stud farm colts.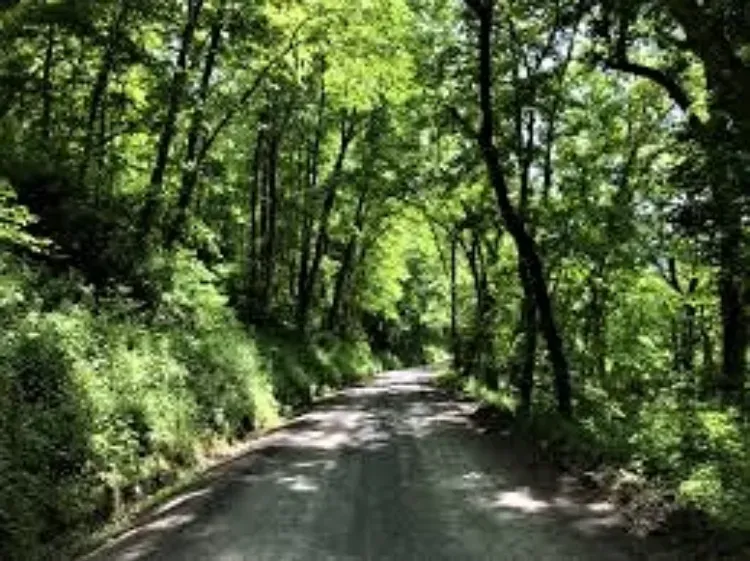 Adding to your Bucket List by visiting the New Forest
Visit the New Forest and stay in one of the many inns and country houses. While there find and photograph some of the New Forest ponies. You will not be disappointed.