3 Min Read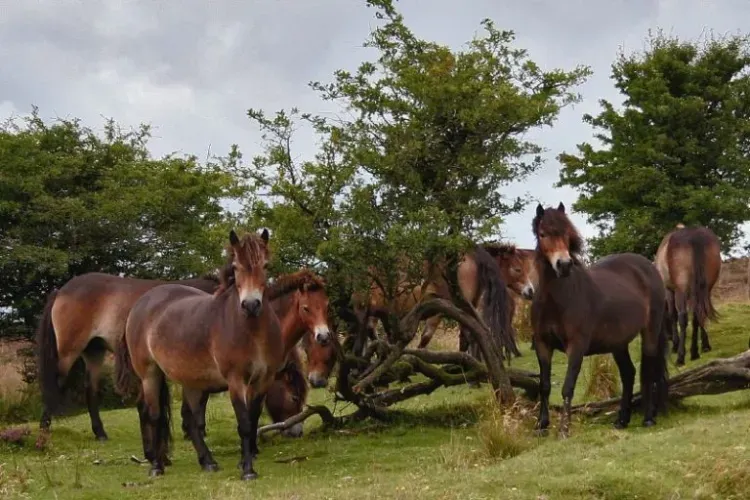 Ponies have been running wild on Exmoor for thousands of years. The Domesday Book records ponies on Exmoor in 1086, and other evidence of their existence predates this by at least 1000 years. Today all true Exmoor ponies are owned and managed. They live in semi-feral herds wandering across the Exmoor National Park. Now we need to consider where this park is.
Where to Find Exmoor National Park
This park is located in the West Country of England in the counties of Somerset and Devon. It reached over 300 meters high and in winter experience many storms blown in from the Atlantic.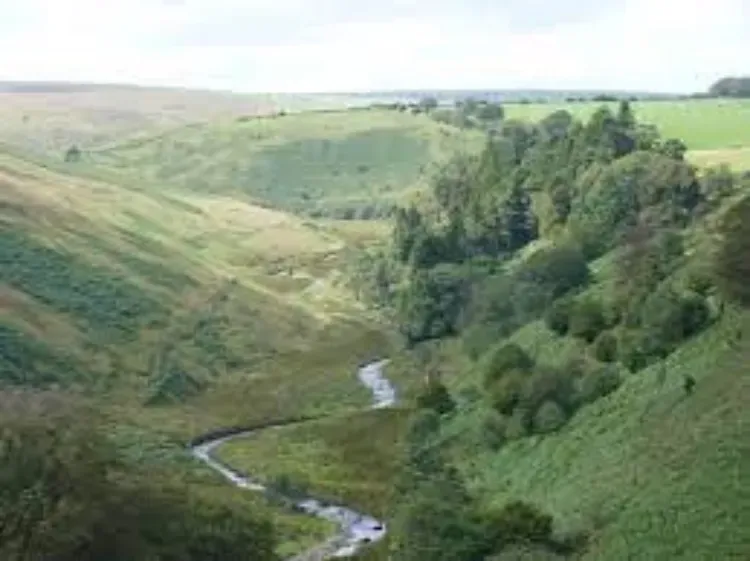 Exmoor has wooded and more sheltered valleys.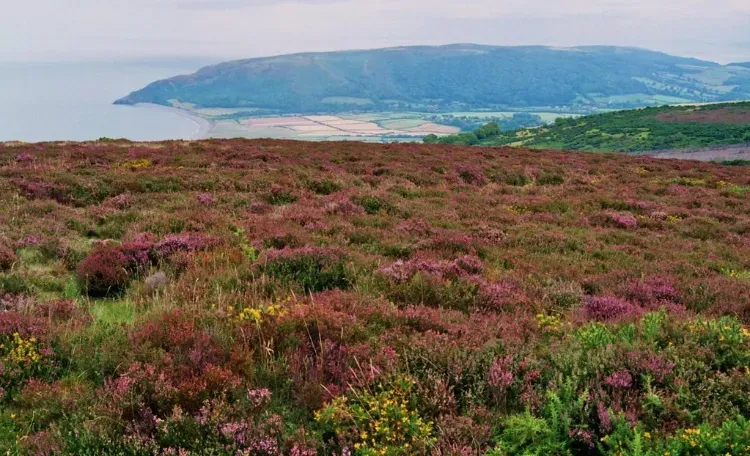 Many areas of Exmoor are high and windswept. These areas are more inhospitable in Winter.
Exmoor Pony – Colour and Coat
Exmoor ponies are dun, bay, and brown with mealy colouring to their underparts and around their eyes and nostrils. Their manes, tails, and lower limbs are dark brown or black. Exmoor ponies have fine glossy Summer coats but in Winter they grow very thick protective coats to shields them from driving rain and cold conditions.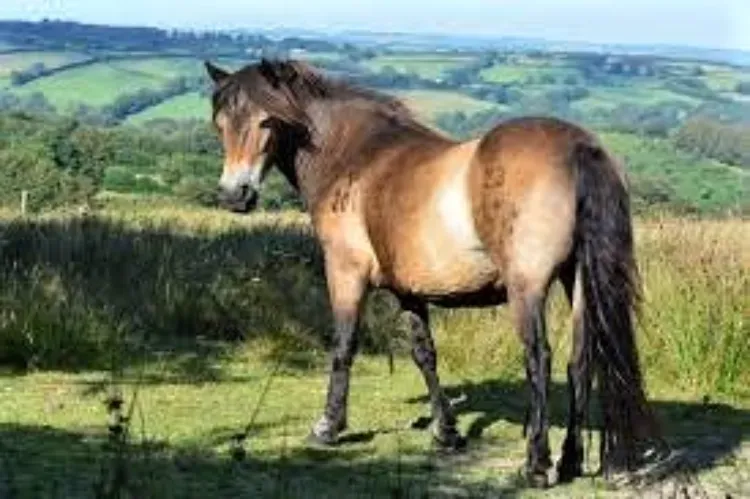 A typical Exmoor pony in Summer clothing. Note the dark mane, tail, and lower limbs and the mealy colour around the muzzle and along the lower flank.
The Exmoor copes with cold wet conditions through the following adaptions:
Small ears to reduce body heat loss
A winter coat with a woolly underlayer but a long oily outer layer to keep the ponies both dry and warm
Long and thick manes and tails to provide warmth
A frost cap at the top of the tail to deflect water from the groin area
Fleshy eyelids to deflect driving rain and to provide insulation.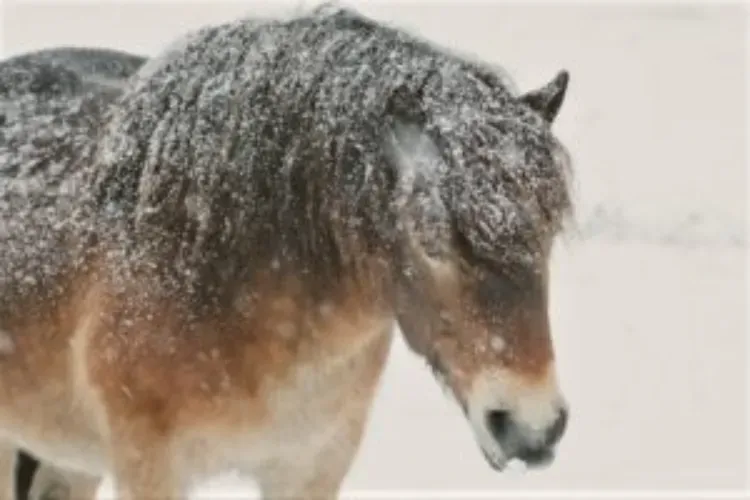 This Exmoor pony is so well insulated that his body heat does not escape to melt the snow on his back.
Registration and Branding
Pure Exmoor ponies are registered in a studbook and until the early 2000s, all were branded on the near shoulder with a four-point star.
Build and Height
The ponies are small, with large heads. Most of them stand between 11.2hh and 12.3hh. However, some reach will reach 13.2hh. They are very stocky and strongly put together with deep, wide chests and broad backs. To complement this their legs are short, with considerable bone and they have very hard hooves.
Foals
Foals are born in the Spring and early Summer and run wild on the moor until the Autumn. The herds are then driven down to farms, inspected, wormed and the foals are micro-chipped. At this point, the foals are weaned and those not sold are returned to winter on Exmoor.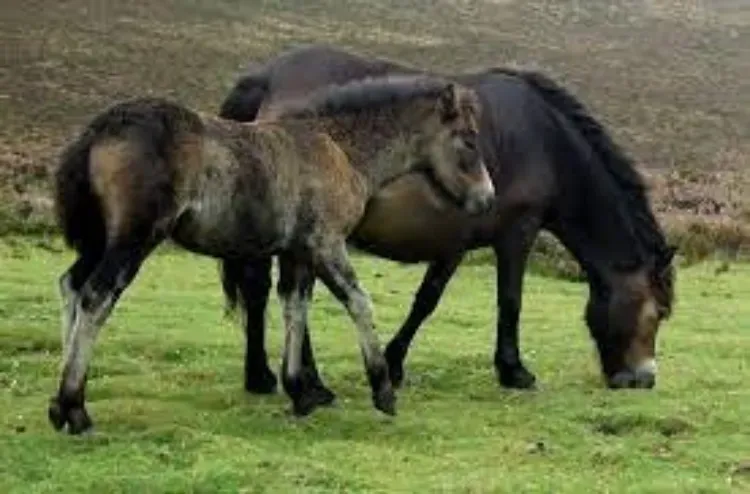 An Exmoor pony with its semi-feral dam will be born without assistance and until weaning has no human contact.
These Ponies are Tough
These hardy and mainly self-sufficient ponies are ideally adapted to harsh Exmoor winters. The breed has remained unaltered for thousands of years and is one of the oldest known breeds. The Exmoor pony is sound and strong with considerable stamina.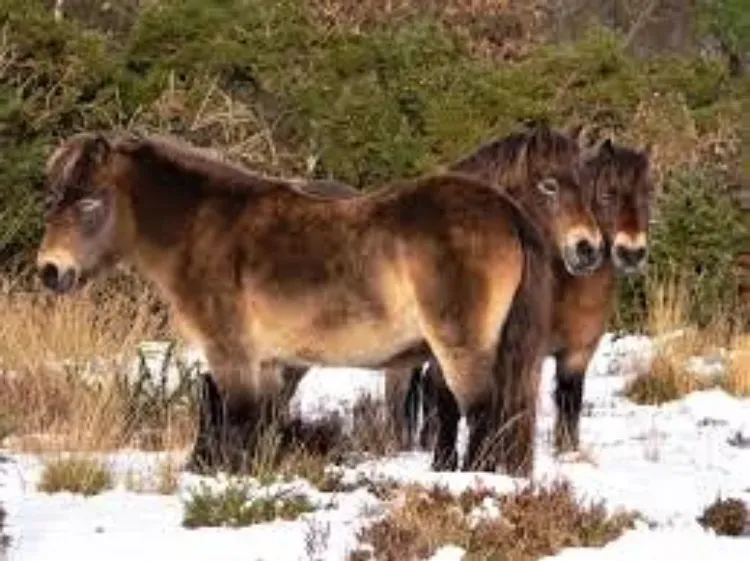 Exmoor ponies sheltering on a hillside. These little ponies look well and are adapted to their environment.
With all of these Traits, the Breed is Endangered
The low-profit margins for farmers keeping semi-feral ponies on the moor have affected the numbers bred. The Rare Breeds Survival Trust has assigned Exmoors as endangered because there are only about 500 on Exmoor.
Nevertheless, a few UK herds are established outside Exmoor and others as far afield as Canada and the USA.
For your "Bucket List" Visit Exmoor and see these Magnificent Ponies
Obviously, the semi-feral ponies roam free but the following Exmoor locations are common grazing areas:
Porlock Hill
Winsford Hill
Molland Moor.
You will need to buy an OS map from a tourist shop to locate these areas of Exmoor and will also need good walking shoes. Now let your adventure begin.