3 Min Read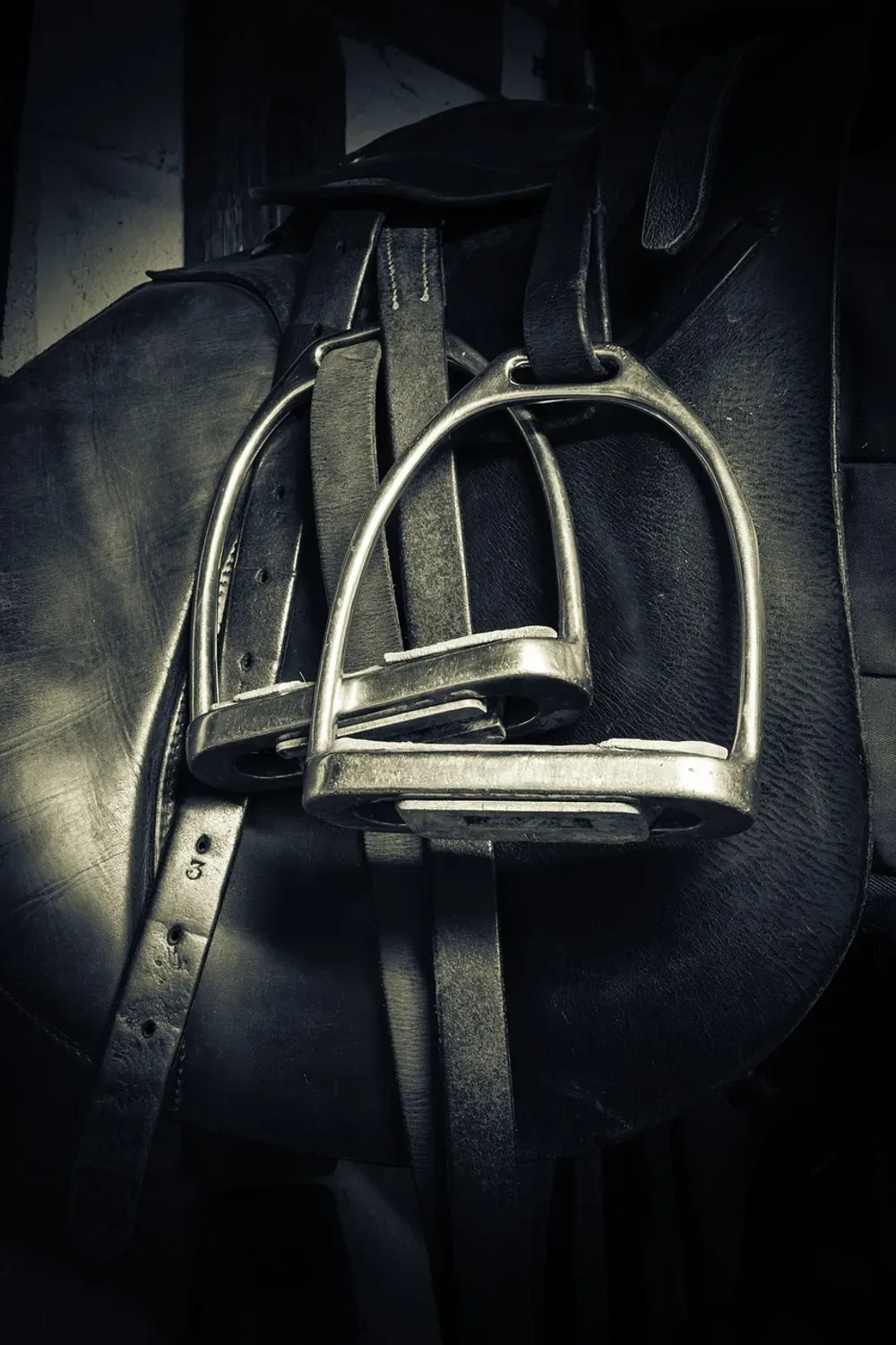 Why do I need Safety Stirrups?
Safety is very important and riding is categorised as a dangerous sport for good reasons so it is sensible to go for safety stirrups. Then you can relax and ride without the fear of a foot becoming trapped in the event of a fall. Although this does not happen very often, being dragged by a panicking horse with your foot caught up in a stirrup causes injuries that could be life-threatening.

As a teenager over 50 years years ago, I tried safety stirrups that were designed to break open when a foot became trapped after a fall, but I found these early versions just broke open with general hacking so I could not use them for adventurous riding. Things have so moved on from those days and my own children successfully used peacock-style safety stirrups. 
Insurance companies categorise riding as a dangerous sport!
So take heed and use safety stirrups.
What Types of Safety Stirrups are available?
There are five designs of safety stirrups and these are:
Stirrups that deform when your foot becomes trapped and spring back into place when the foot is released.
 
The type of safety stirrup that breaks open if a rider's foot becomes trapped and will need to be put together after a foot is released.
 
A stirrup that becomes detached from the stirrup leather in the event of a trapped foot. These will then need to be retrieved and reattached. 
 
Cage stirrups that will prevent a foot from slipping through the stirrup but do not prevent a foot from being wedged sideways unless they also have a quick-release system.
 
Other types are shaped to permit the foot to escape in the event of an accident. These work by providing more space so that the foot does not easily wedge and become stuck.
Which is the Better Safety Stirrup Design for me?
Obviously, the best designs are those offering the maximum protection and this means the best chance of a caught foot being released. It is the rider's decision to pick the safety stirrup for their ridden activity unless this is stipulated by the controlling body for their equine sport. 
Safety comes first and stirrups must be the correct width for your foot!
When your foot is in the stirrup there should be a 0.5-inch (1.25 cm) gap between the edge of the boot and the side of the stirrup. This means the stirrup tread should be 1 inch (2.5cm) wider than your boot width.

The two types of Deforming Stirrup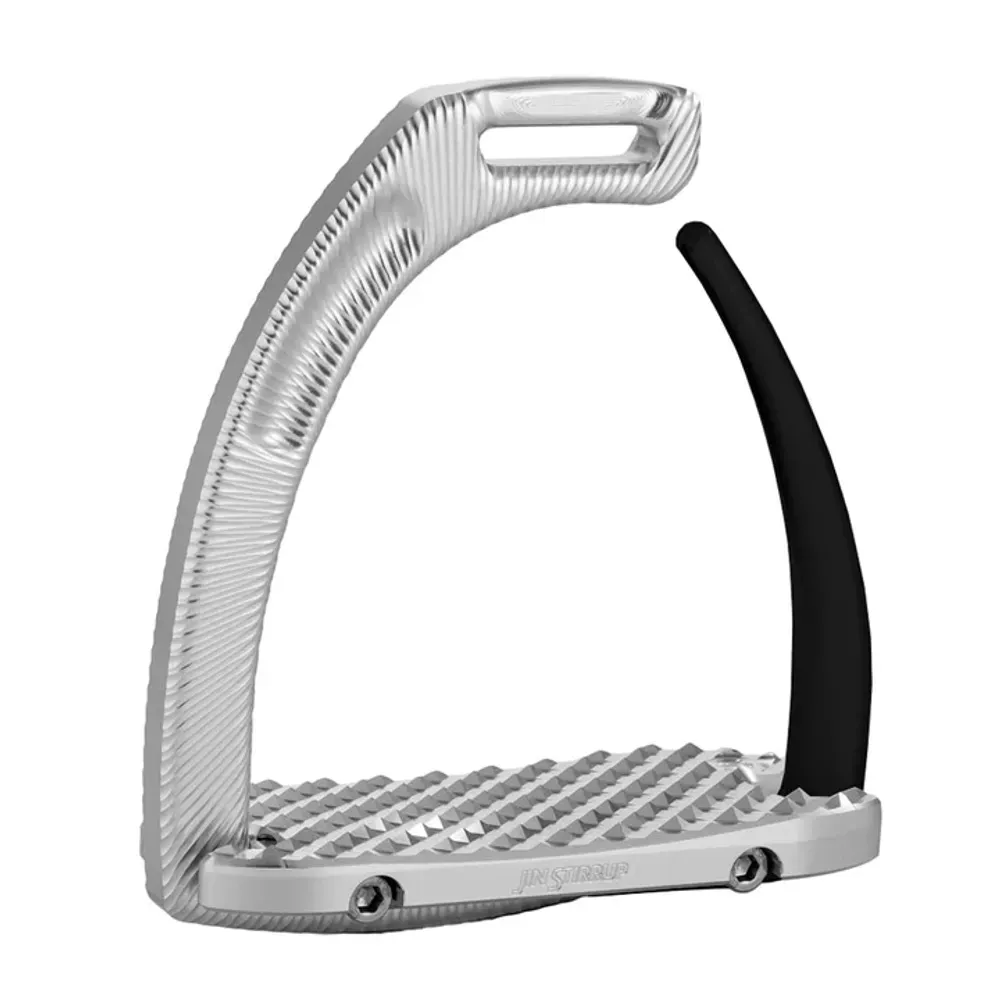 The JS Italia Jin Air-Stirrup
This JS Italia stirrup deforms in the event of a trapped foot. The outer edge provides full support but will bend in any direction and then spring back into place when a trapped foot is released. These stirrups are very effective and available in junior and adult sizes. 

The weight is 480g for each stirrup and they are constructed from aluminum & polyurethane in a variety of colours. The adult-size treads are 122mm long by 70mm wide.
Do you find it hard to replace your foot in a stirrup?
Then choose a stirrup that attaches to the stirrup leather permitting the stirrup to lie facing forward when the stirrup leather is flat against the saddle.
The FreeJump Soft Up Pro+
This FreeJump stirrup is very similar to the first product and the outside arm also flexes when a certain amount of pressure is applied in the event of a foot being trapped in a fall situation. They come in a variety of colours and weigh 502g per stirrup. The large studded treads help prevent a foot from slipping out and an open eye permits easy attachment to a stirrup leather. 

This eye is set at a 45-degree angle to make it easier for a rider to replace a foot in a loss stirrup. If you frequently lose a stirrup and then struggle to replace your foot this could be the stirrup for you.

The two types of Break-open Safety Stirrup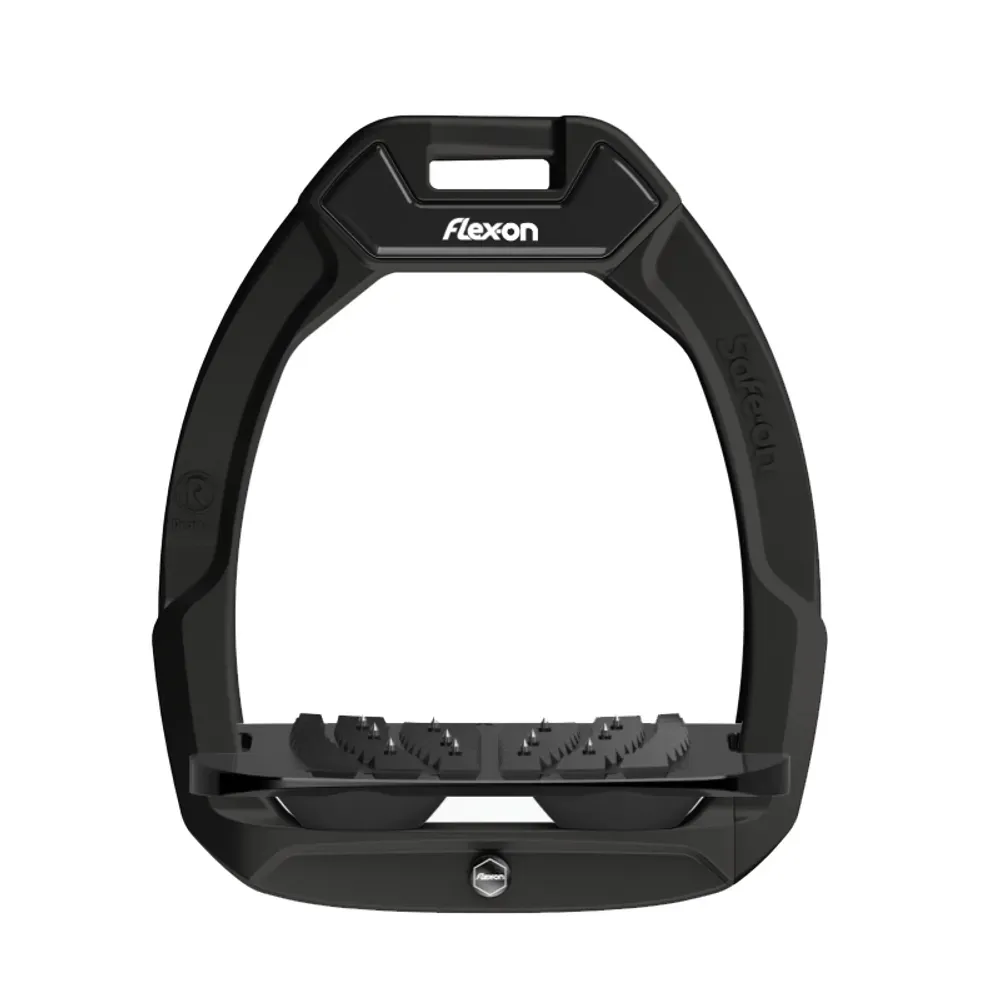 Flex-On Safe-On Ultra Grip Safety Stirrups
This stirrup comes in various colours and adult or junior sizes, and the respective weights are 500g and 275g per stirrup. Junior stirrups are designed for riders under 40kg. The Flex-on Safe-On stirrup has an outer branch that snaps open in the event of a fall. However, closing the branch will require using the supplied tool. 

The foot plate is studded for extra grip and sits above two springs to absorb rider shock and strain to knees and ankles. The foot plate comes with various options to provide different foot placement orientations and different degrees of foot grip.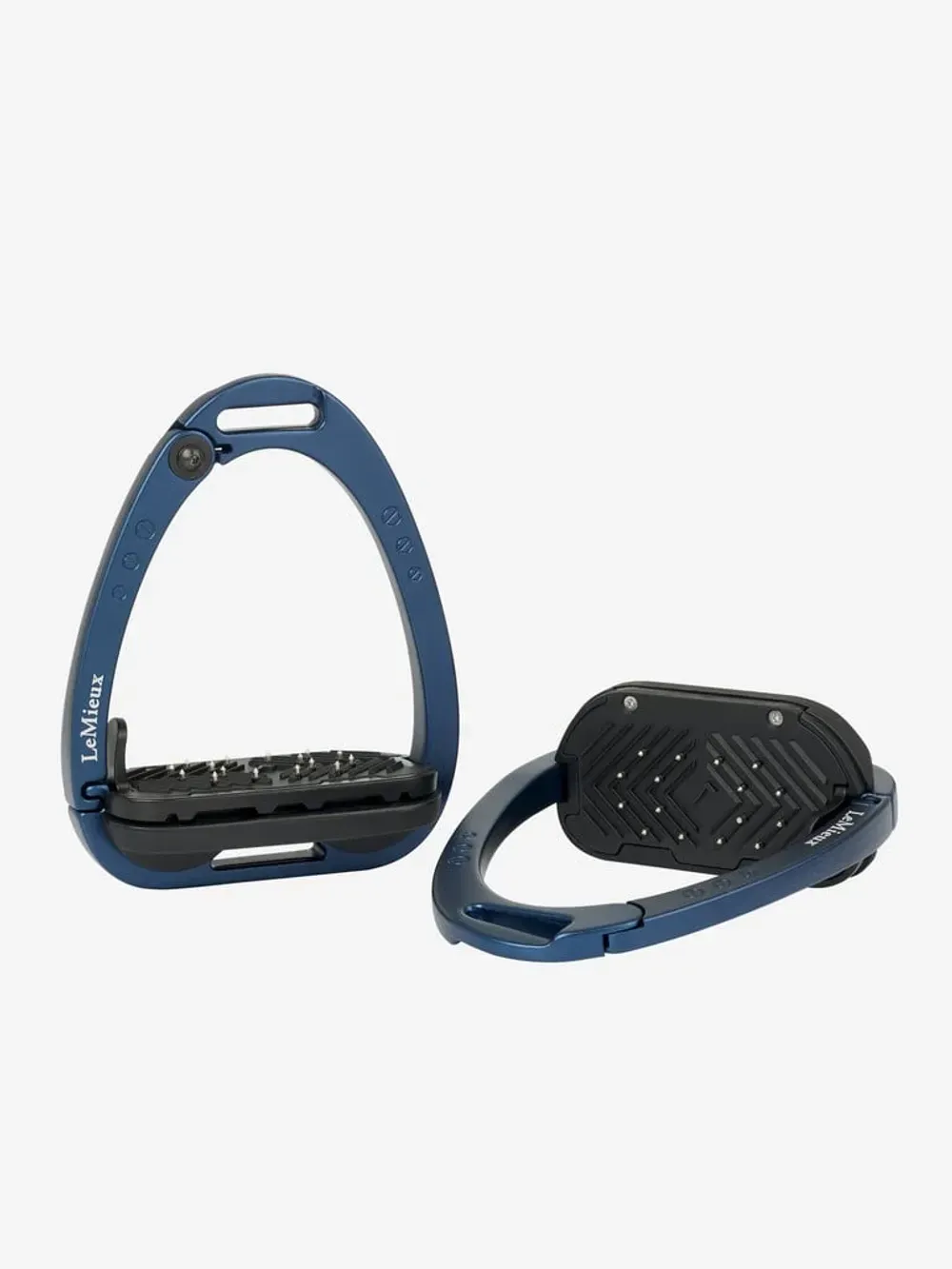 The LeMieux Vector Balance Stirrups
These cross-country stirrups come in a range of colours and are very lightweight at 372g. They have a two-stage release system to prevent accidental opening but release when pressure is applied to the outside edge of the stirrup. As a bonus, the top of the stirrup is offset so that the stirrup lies in a way that makes it easier for the rider to regain a lost stirrup. 

The foot plate is set at an angle of 5 degrees for better foot position and is studded for extra grip. The foot plate design spreads the rider's weight evenly across the stirrup and is set above shock absorbers to help the rider's joints.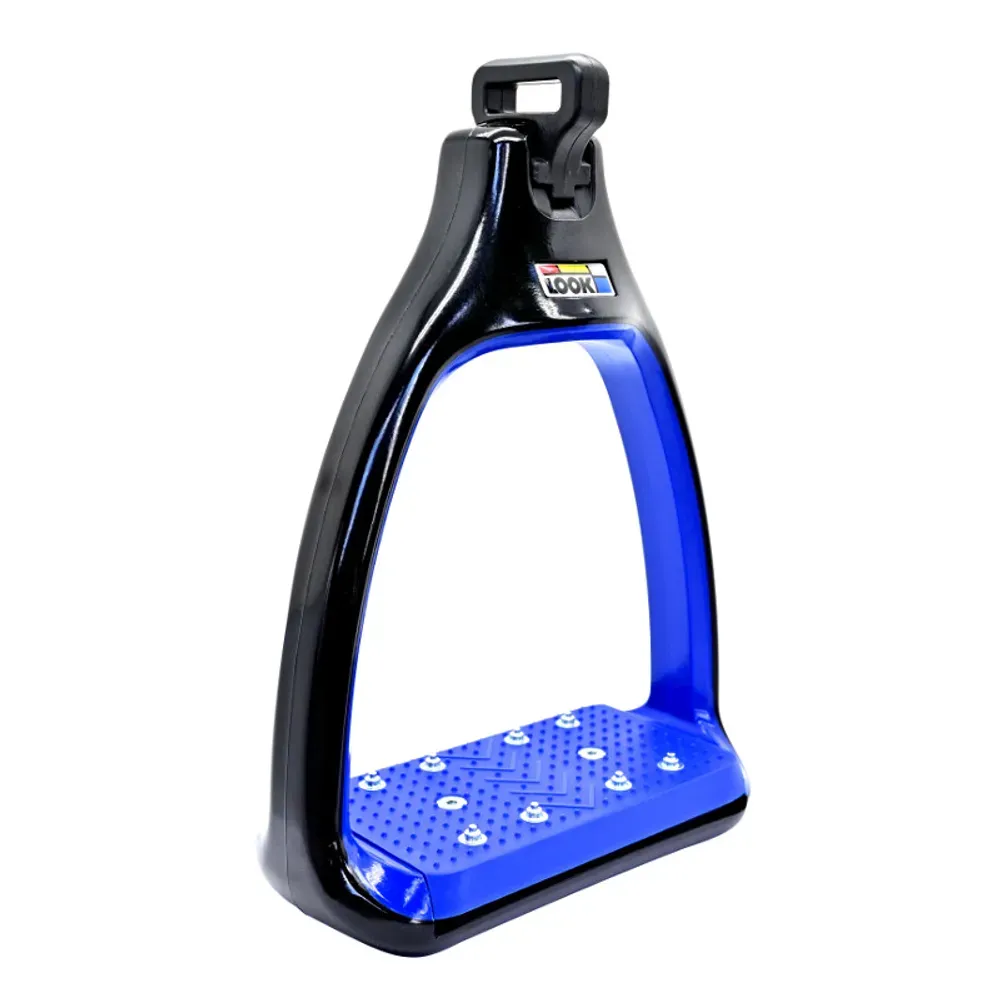 A stirrup that will Detach from the Stirrup Leather - the Rid'Up Plus Stirrup
This is a new and patented design. The stirrup is released from the stirrup leather when a rider's foot is caught up after a fall and the whole stirrup comes away with the rider. The system operates when the stirrup undergoes a forceful twisting force compatible with a rider falling with a leg caught in the stirrup. 

The stirrup leather is attached so that the stirrup is naturally in line with the rider's foot while the leather is flat against the saddle and this makes for more comfort and it easier to replace a foot in the event a stirrup is lost. Each stirrup weighs 440g and the tread width is 12cm.

Two types of Cage Stirrup
Different versions of this stirrup are popular with endurance riders and western riders. They all stop a foot from slipping through a stirrup but generally do not open if a foot is twisted and trapped within the stirrup.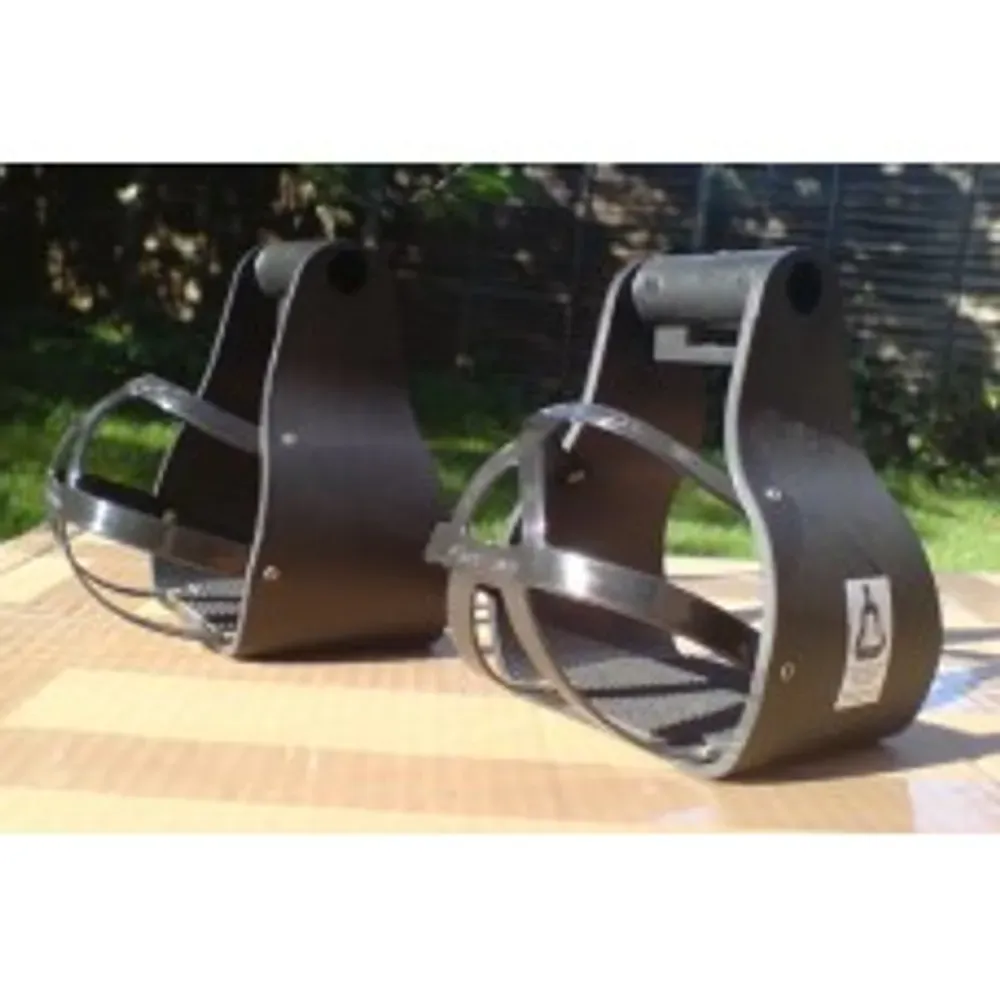 The Flex Ride Caged Safety / Endurance Stirrup
These lightweight stirrups are ideal for endurance riders. They only come in one size and are black.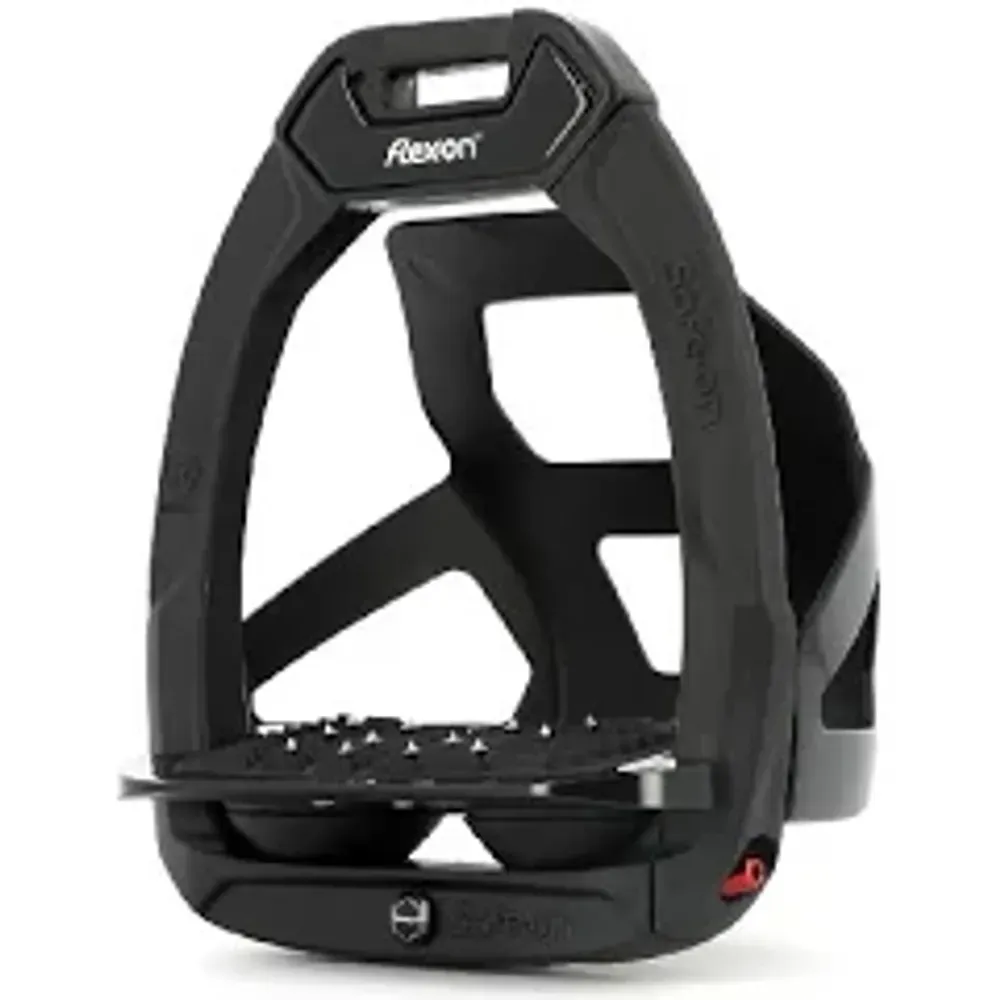 Flex-On - Junior Safe-On Safety Stirrups with Cages
These are unusual because they offer both a side breakaway arm and a cage, however, I have only found junior sizes. They come with all the features of the Flex-On Safe-On Ultra Grip Safety Stirrups as mentioned above.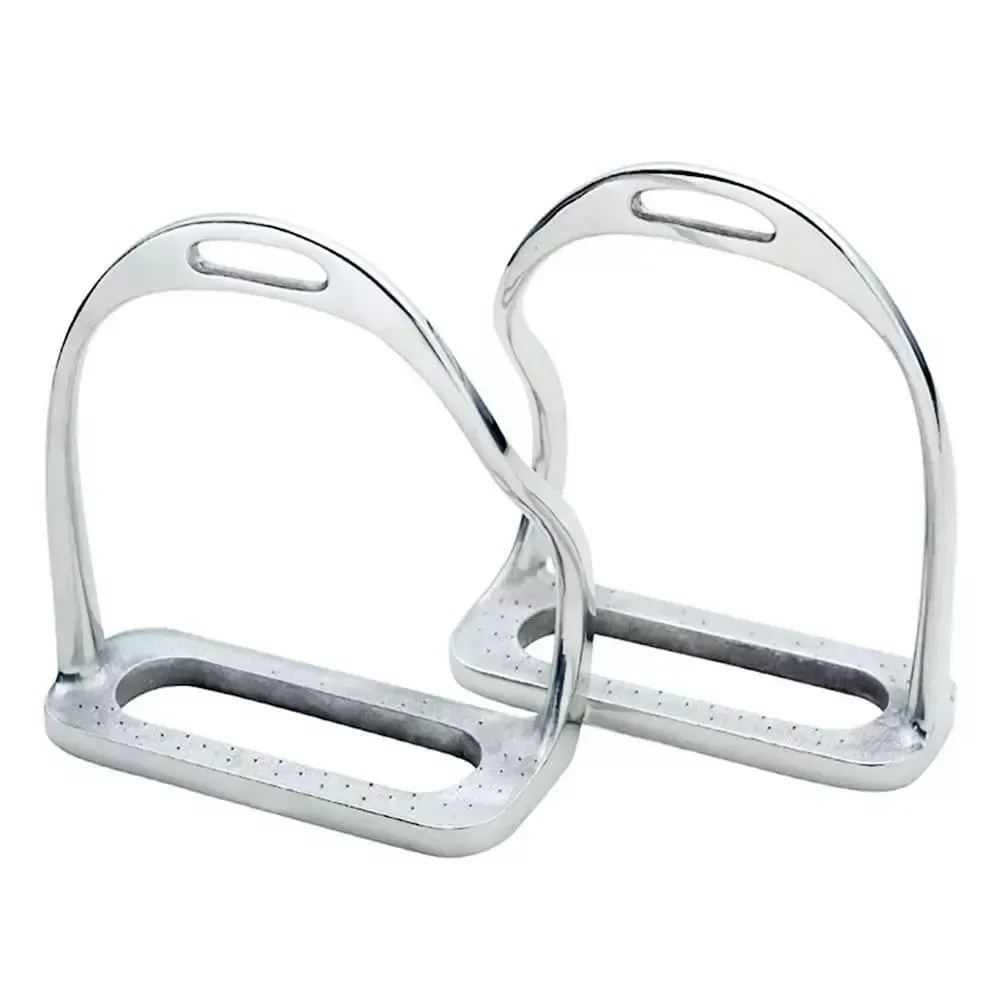 The Shires Bent Leg Stirrup - Stirrups shaped to permit the foot to escape
These are the original adult safety stirrup and are designed to give a shape and width permitting a trapped foot to escape. Here is an example of bent leg stirrup iron.

These are available in junior and adult sizes but are not as safe as many modern safety stirrups. They are made from stainless steel and the bent outside edge gives more room for a trapped foot to escape.
The take-home Message
You have read about the available types of safety stirrups and can make an informed choice for your equine activity. Safety stirrups provide an additional security measure that will make for safety so fitting them to your saddle is a bit of a "no-brainer". As a final note, some of the best safety stirrups are an expensive one-off purchase, but what price do you place on your peace of mind not to mention your life? 
FAQs
Can I use safety stirrups for Western riding?
Are shaped stirrups that permit your foot to slip out effective?
Can I ride safely in Wellington boots?
Are deforming stirrups as safe and useful as break-open stirrups?