4 Min Read
What is a cob?
A cob is simply a small and very stocky horse standing well under 16hh, however, there are degrees of being a cob and different types are available to suit various people's needs. Cobs can be anything from a smart hunting cob to a very plain and heavy vanner. There are also cob ponies and other cobs of certain breeds like the Normandy cob. Cobs can and often are of mixed breeding.
What are the advantages of cobs?
A cob is generally easy to handle with a placid and tolerant personality. They are good-doers and cheap to keep as they remain in good condition on light rations. Cobs have strong hoofs and this makes it easy for them to be shod and keep shoes on for an 8-week reshoeing cycle which is far longer than most horses can cope with.
 
Cobs are quiet to ride and able to carry heavy riders. In addition, some have a reasonable talent for jumping, and as a type, they usually have a give-it-ago attitude to most things their rider will ask of them.
What are the disadvantages of cobs?  
Cobs, a popular type of horse known for their versatility and good temperament, are faced with several health challenges. One of the issues that cobs encounter is saddle fitting. Due to their low and wide withers, finding a saddle that stays securely in place can be difficult, as there is a tendency for the saddle to slip around. Another common problem for cobs is obesity.
 
Unfortunately, many owners are unaware that their cobs are overweight, which can lead to serious health concerns. Obese cobs are prone to developing insulin resistance, laminitis, and EMS. While cobs have good quality hoof horns, many have boxy feet and upright pasterns that can cause a jarring action, increasing the possibility of foot concussion problems. It is important for cob owners to be aware of these health challenges and take steps to prevent them to ensure the health and well-being of their horses.
How do I identify a good riding cob?
Consider the following before you purchase your cob and have a vetting to check the horse's suitability for your intended use.
A riding action which must not be high and rounded.
 
A straight front leg action without significant deviations.
 
Straight hocks with no evidence of bowing.
 
Sufficient withers to hold a saddle in place.
 
Good sloping pasterns without boxy feet.
Having these qualities will help your cob stay sound and will give you a more comfortable ride.
What weight rider will my show cob carry?
When cobs are shown in the Uk there are three classes and these are:
Lightweight cobs with a minimum of 8.5 inches of bone below the knee, above 14.2hh (147cm) but standing no taller than 15.1hh  (155cm) and capable of hunting a 14-stone rider (196 pounds).
 
Heavyweight cobs with a minimum of 9 inches of bone, above 14.2 hh (147cm) but standing no taller than 15.1hh and capable of hunting a rider heavier than 14- stone.
 
Maxi cobs stand over 15.1hh (155cm) and are of genuine cob type. 
Fat cobs should not carry heavy riders!
Overweight cobs cannot carry heavy riders for any sustained athletic activity. Show cobs are generally exhibited in very overweight and not in hunting conditions.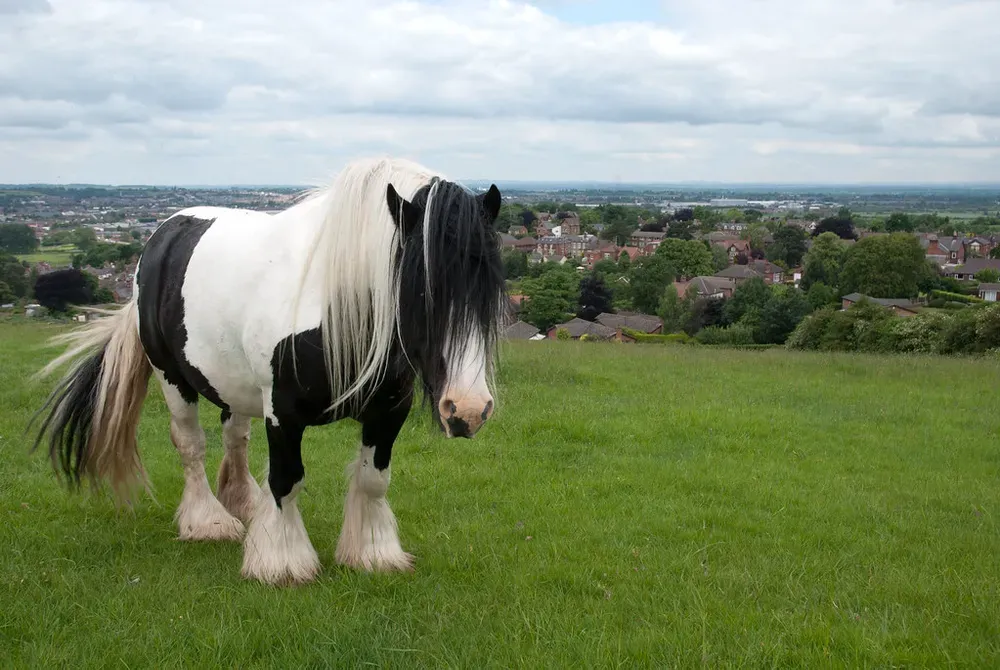 An extremely obese cob
This cob is a welfare issue as it is extremely unhealthy and should not be ridden under any circumstances. Cobs need to be slim and their strength is from their frame shape and size rather than excess body fat.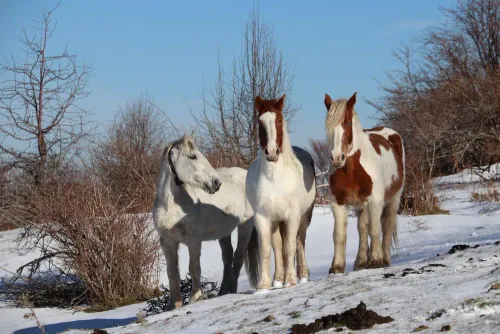 Article Suggestion
Weight Problems with Cobs
Identify weight issues in your cob. Learn to spot fat deposits. Get tips for slimming down. Proper weight management protects your horse's health.
Find out more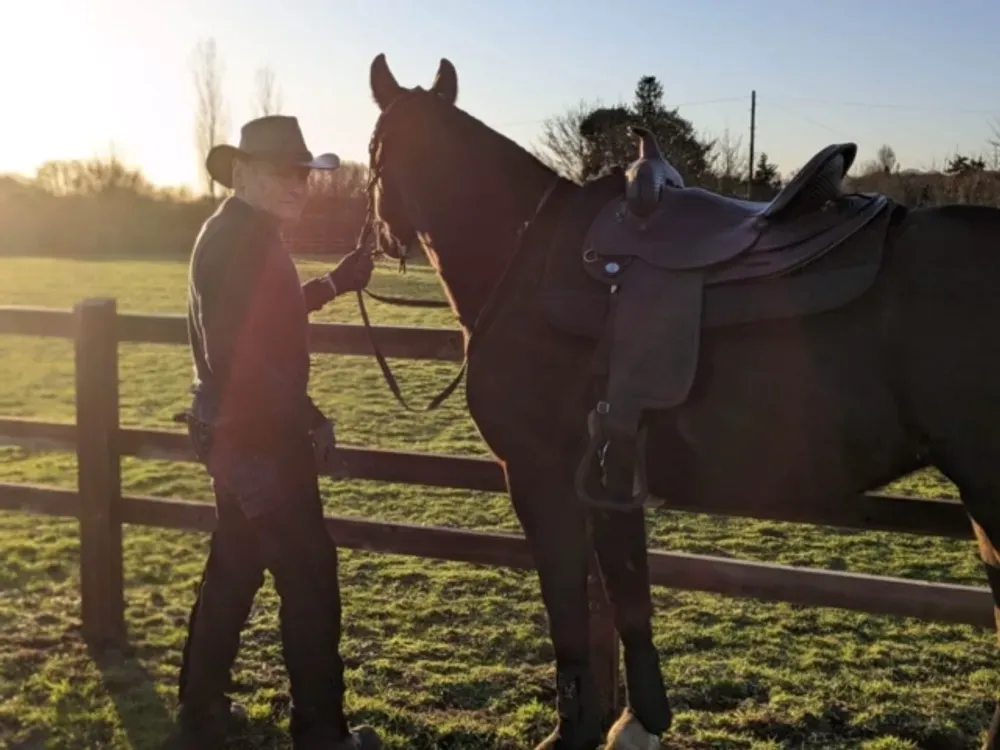 A lightweight cob
This horse stands at 15.1hh, is of mixed breeding and is produced for western riding. She has very strong limbs for her frame size with 9 inches of bone and is in fit and slim condition. This horse has the quality to be a lightweight show cob. She weighs 1200 pounds and daily carries a rider and saddle at 212 pounds.
Many Irish and Gypsie cobs are much heavier than the lightweight cob outlined above and they will be up to substantial weight if they have adequate bone below the knee for their frame size. A 15.2hh Gypsie-type cob with 10.5 inches of bone will be very strong and up to a great deal of weight. A 250-pound rider would generally be no problem for this type of cob but their athletic ability will be reduced by their frame size and their action could be high and rounded. These horses are generally heavy on their feet and prone to foot concussion problems when regularly trotted on tarmac roads. They are not suited to serious jumping, dressage or long-distance riding but will usually be a safe convenience for quiet riding. 
How to determine my cob's ability to carry a heavy rider?
As a general guide use this method to determine the cob's weight-carrying capacity. The bone is measured as the circumference just below the knee.
8.5 inches of bone - 195 pound rider
9 inches of bone -  210 pound rider
9.5 inches of bone - 225 pound rider
10 inches of bone -  240 pound rider
10.5 inches of bone - 255 pound rider

 
Three types of cobs
Here are three distinct types of cob. The Gypsie cob is not suited for serious riding and is a real vanner type. While at the other extreme, the Welsh cob is a good choice for many riding club activities.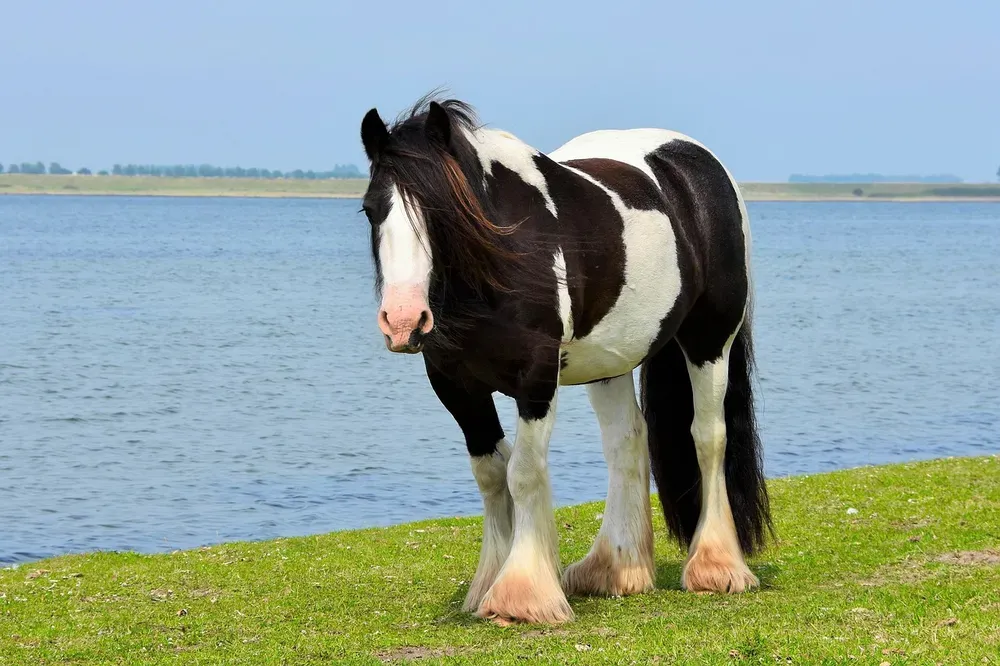 The Gypsie cob
This Gypsie cob is very strong and will be up to carrying a rider of substantial weight. The horse will be a quiet hack but will not have the athletic ability for serious jumping and galloping.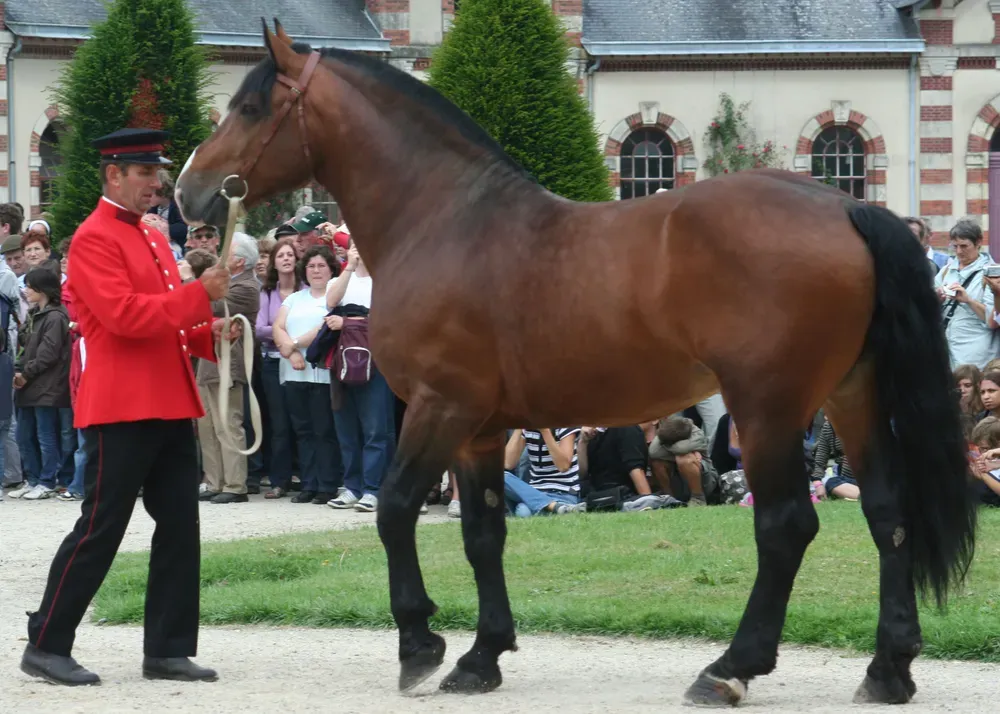 The Normandy cob
This Normandy cob is very strong and has a good workman-like frame suited to more adventurous activities than a Gypsie cob.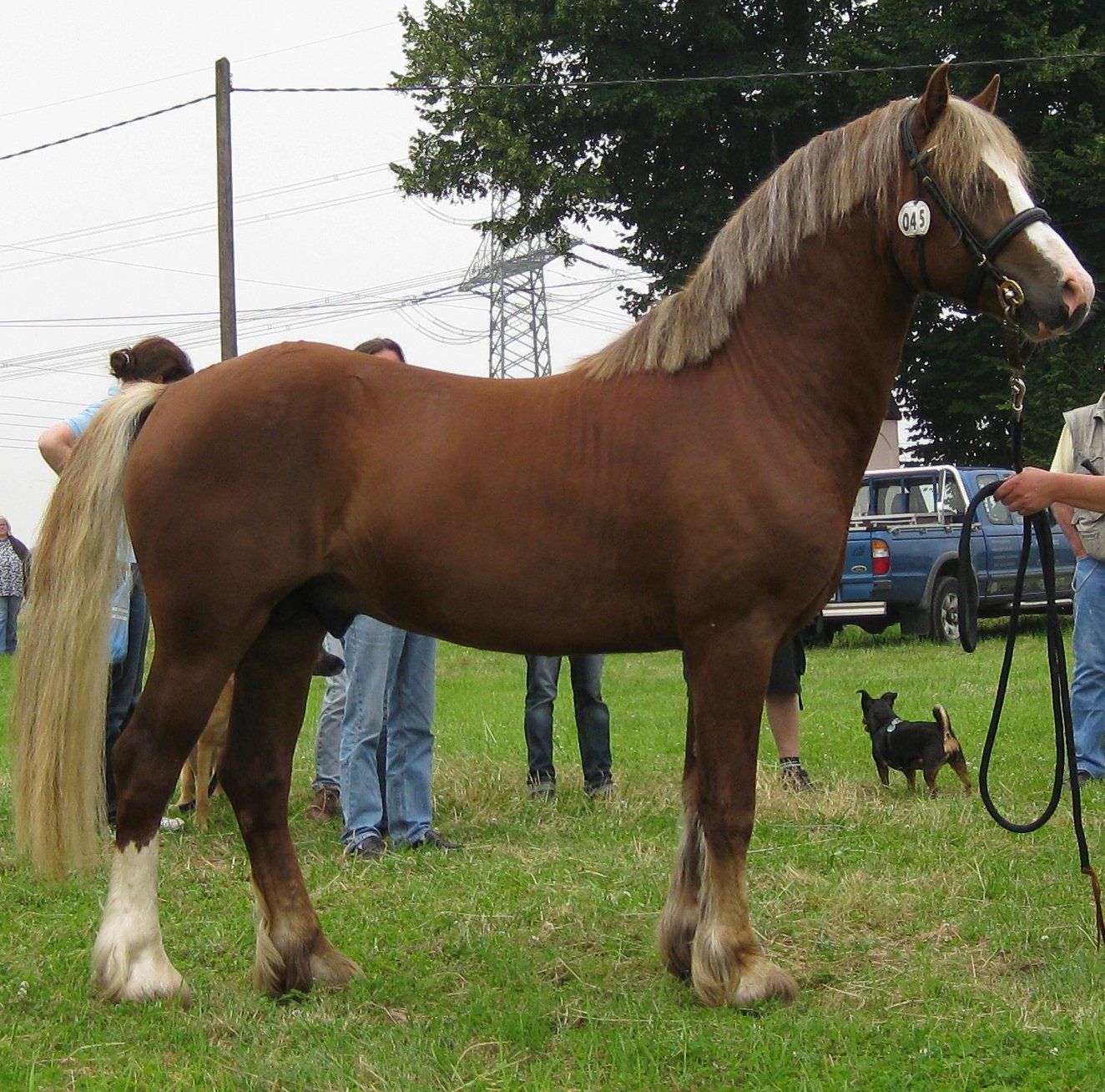 The Welsh cob
This very smart Welsh cob has a real pony-type look. These cobs make excellent hunting and riding club mounts.

The take-home message
Many lightweight and heavy-weight show cobs kept in slim condition make really useful horses. They are the old fashion riding club type of horse that can be ridden by any member of the family and turn their feet to a number of non-elite equine activities. Some even progress to more serious competing. These types of horses will be cheap to keep and will look smart and be able to carry a substantial rider.